If an Employee account is no longer active with an Employer, you can terminate or delete the Employee. This article explains the differences between each option.
To terminate or delete an Employee, you will first need to access the Employee's user details. To access user details:
Go to the Proposal Listing.

Locate your client's Proposal and select the 'Edit' button.

The Employee you want to terminate/delete must be associated with your client.

Navigate to Step 2: Employee Demographic in the Proposal.

If you haven't already, you will need to complete Step 1: Employer Basics.

In Step 2: Employee Demographic, locate the Employee you want to terminate/delete and select the 'Edit' button to access the Employee Hub.

NOTE: The 'Edit' button will only be shown if the Employee has created an account for the Employee Interview. If they haven't created an account yet, you will not be able to terminate or delete them.

In the Employee Hub, select the 'Administer User' option.
On the Administer User page, you can:
Terminate the Employee
If an Employee is no longer covered by the Employer, but rather under a continuation coverage like COBRA or State Continuation, you or the HR Manager can begin the termination process.
NOTE: This process terminates the Employee's coverage only, not their employment!
From the Employee's Administer User page, select the 'Terminate' button.

Then, complete the following areas:
Termination Date
Termination Type (Voluntary, Involuntary, Death, or Retire)
Enrolled in medical benefits for 3 months before termination (if applicable)
Set the Employee's Benefit Status to COBRA/State Continuation (if Employee needs to be included in the Client for reporting or census purposes)

Save when complete. Then, you can generate a Termination Form to send directly to the Carrier(s), stating that the Employee's coverage will be terminated.
Delete an Employee from their Employer
You can completely delete your access to an Employee's account if this Employee is no longer using their Employee account or associated with their Employer.
NOTE: Deleting an Employee from your Agency DOES NOT delete the account permanently. An Employee that would like to have his or her account deleted permanently must call 216-367-9730 to speak directly with our Customer Support team.
From the Employee's Administer User page, select the 'Delete' button.

A 'Delete Employee' pop-up will appear, asking you to confirm the deletion. Select the 'Delete' button and access to this account will be deleted.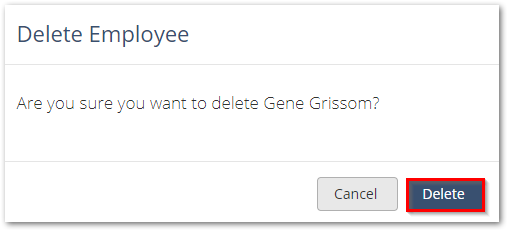 Employees that are deleted from an Employer can still access their accounts but will need to complete an Employee Transfer to do so.