This article explains how to access, review and download forms and applications for an Employee (items will be offered in PDF format).
You can preview forms in the Employee Hub. To access the hub:
Go to the Employer Listing.

Locate the Employee's Employer and select the 'Edit' button to access the Employer Hub.

In the Employer Hub, locate the Employees section and select the 'View' option to access the Employee Listing.

NOTE: To access this option, the Employer must have at least one open Proposal, and the Medical Health Questionnaire turned on. See this article for more information.

In the Employee Listing, locate the Employee and select the "Edit" button to access the Employee Hub.

NOTE: The 'Edit' button will only show if the Employee has created an Employee account.

In the Employee Hub, select the 'Send Individual Form' option.
NOTE: You can also access the Employee Hub in Step 2: Employee Demographics of a Proposal. Please note that the Employee will still need to have an Employee account for you to access the hub.
On the Preview Forms page, you can search for forms by the form type, carrier, and form name.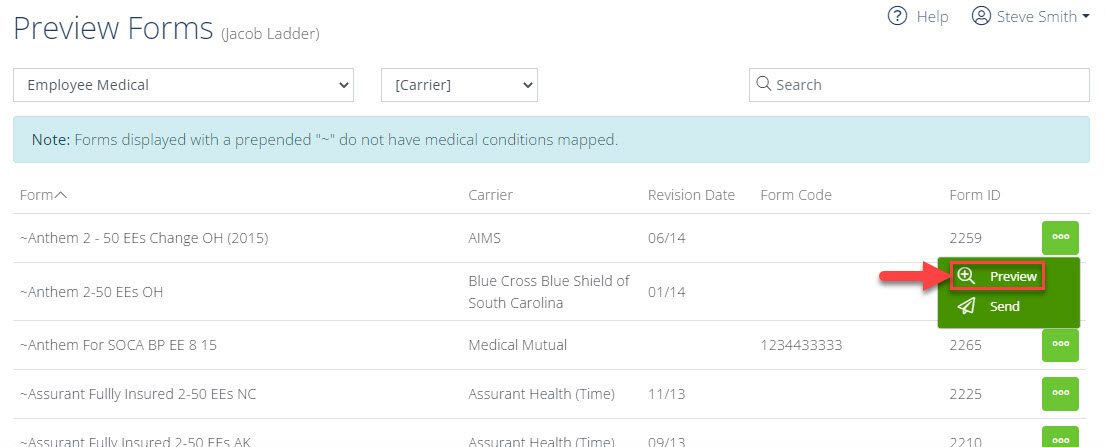 NOTE: Forms that are displayed with a prepended "~" do not have medical conditions mapped and alphabetically appear first.
Once you find the form that you want to view, select the ellipses button to open a dropdown menu and select the 'Preview Forms' option. The forms will either appear in another tab or even open in a new window, depending on your browser.