The Employer Listing shows all Employers that are currently associated with your Agency.
See this article for more on how to create a Proposal for an Employer.
IN THIS ARTICLE
---
Accessing the Employer Listing
You can access the Employer Listing by selecting Employers in the left-hand navigation menu.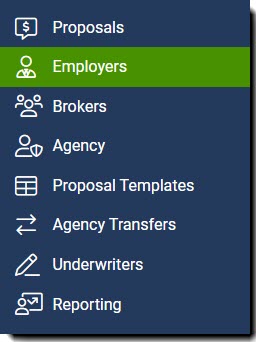 In the Employer Listing, you will see Employers organized by:
Employer Name
Status
Effective Date (MM-DD-YYYY)
Days to Renewal

---
Searching Employers
You can search for Employers by name, status (active or inactive), and favorites.

---
Actions you can take
When you see an Action column, you can select the icons or text below to see additional pages available for that Employer.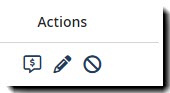 In the Employer Listing, you can:
Add Employer: Allows you to add a new Employer.
Proposals (Text box icon): Allows you to view existing Proposals or start a new Proposal. See this article for more information.
Edit (Pencil icon): Allows you to access the Employer Hub. You can edit and take additional actions.
Deactivate: Allows you to deactivate the Employer if they are no longer active.