As a Broker, you can assign forms to Employers so Employees can review their information. This article explains how to change and add new form/application items from those originally set up during the Add an Employer process.
You can assign forms in the Employer Hub. To access the hub:
Go to the Employer Listing.

Locate the Employer and select the 'Edit' button to access the Employer Hub.

In the Employer Hub, select the 'Manage Forms' option to access the Preview Forms page.
On the Manage Forms page, you'll be able to add or change the form(s) needed for a Prescreen or Sold Group submission.
There are 3 types of forms available in Manage Forms:
Employee Forms
Employer Forms

These will populate at the end of the Employer Interview section so the HR Manager can review the appropriate forms during the Employer Medical Questionnaire process.

Ancillary Insurance Forms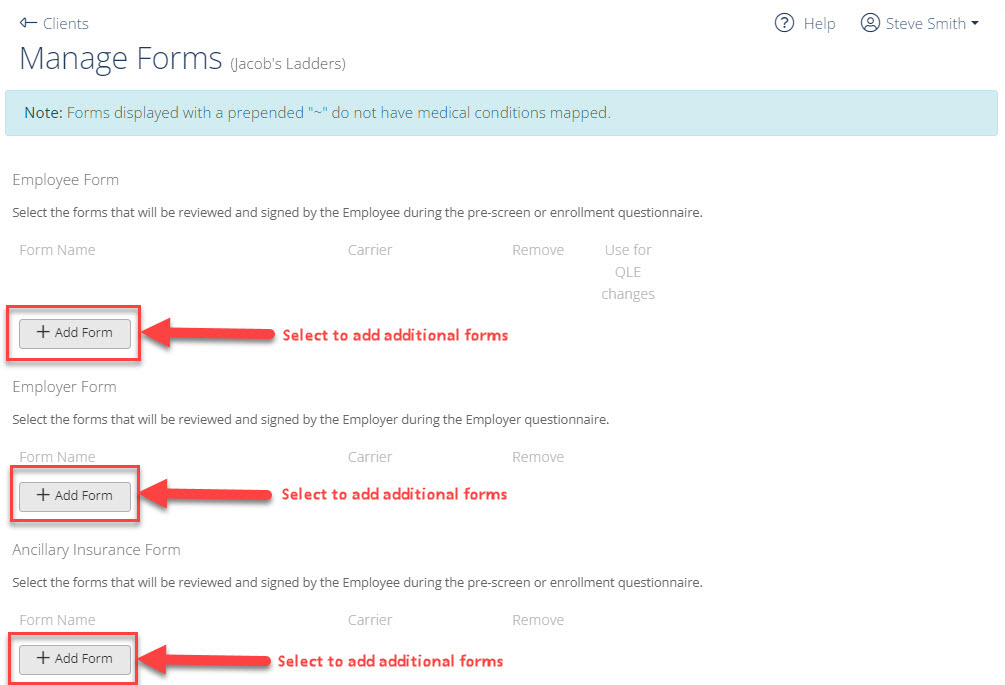 NOTE: Forms displayed with a prepended "~" do not have medical conditions mapped. They appear first alphabetically.
You can select Use for QLE Changes to have the selected form automatically emailed to an HR Manager once an Employee completes his or her application outside of an enrollment period. This feature is used primarily for Employers using Ongoing Management so the HR Manager can download and fax the forms for Qualifying Life Event changes and New Hires to the appropriate Carrier.
Once you have entered the appropriate form(s), save.
Employees will be able to view, access and download items in their online accounts at the Form Review screen in the Review & Sign area.