This article will discuss the tools that you'll use to select products for the Employer in the Proposal process. See this article for more information about Proposals.
IN THIS ARTICLE
---
Filtering products
In the filter panel, you will see a list of filter options. You can use these options to narrow down the list of products that fit your Employer's specific needs.
Available filters:
Pricing Type
Carrier
Portfolio
Price / Month
Network Type
Product Type
HSA Eligibility
Individual in Network Deductible
Individual Out of Pocket Maximum
---
Favoriting products
The Favorite feature allows you to see only those specific products every time you access Products. As you're browsing the products, you can favorite the ones you like and add them to your Favorites List.
To add a product to your Favorites List, select the 'heart' button in the Actions column. To remove a product from your Favorites List, unselect the 'heart' button.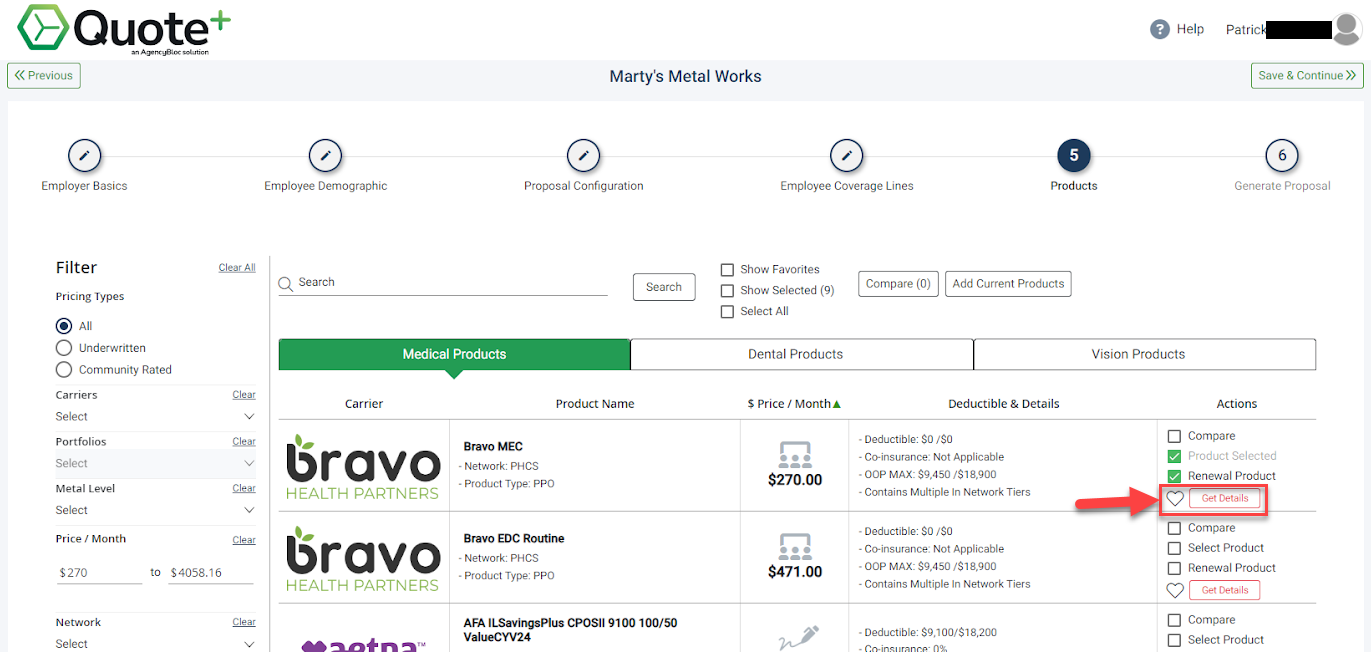 Unselect the heart button if you want to remove a product from your Favorites List.
To view your Favorites List, check the 'Show Favorites' box. To see all available products again, uncheck this box.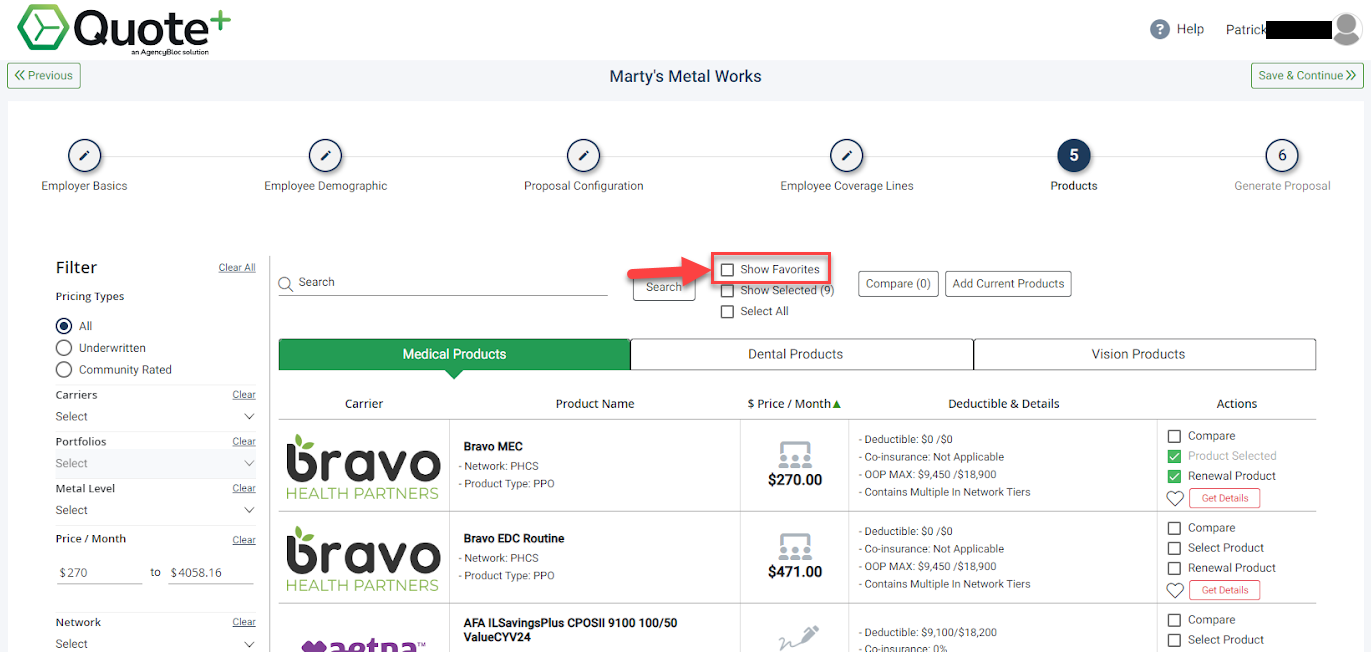 ---
Comparing products
If you're evaluating a few products and you're not sure which ones are the best fit, you can make side-by-side comparisons.
To make a comparison:
Check the 'Compare' box in the Actions column of a product you want to compare.

When you're ready, select the 'Compare' button.

The page will reload to show the products side by side. You can add more products for comparison (up to 4).
---
Selecting products
You can easily add products to the final proposal. Find a product and check the 'Select Product' box in the Actions column.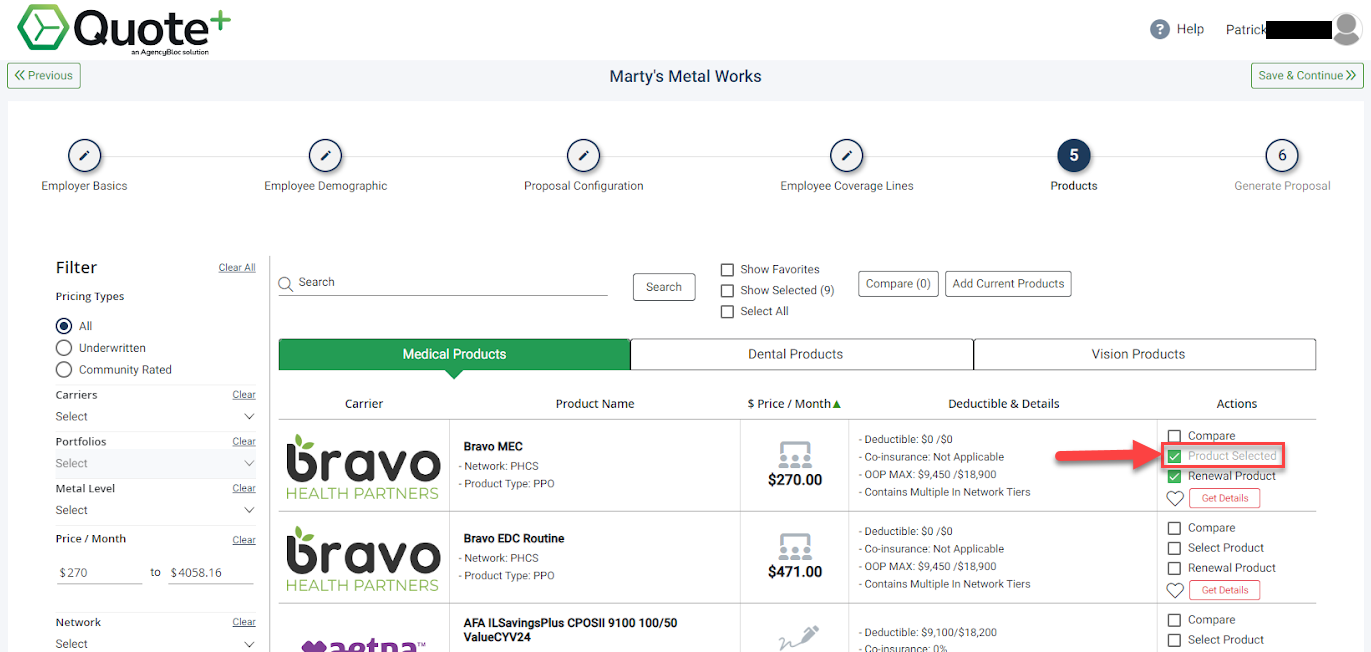 Repeat this step for all products you'd like to add. When all products are added, scroll back up to the top of the section.
You can add as many products as you want to the Proposal, and you can always remove products before the Proposal is finalized in the next step. Before continuing, you should check the 'Show Selected' box and review all the products.

When you're ready, select the 'Save & Continue' button to move on to the final step.